Buy a car.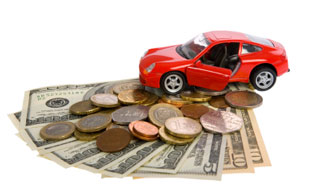 It's important to take the time necessary to research big ticket items ... and what is a big ticket item if not a car? The minute you drive a new car off the lot, it depreciates in value. Keeping your car for many years and paying the loan off as early as possible is the only way to ensure you get your money's worth out of the expense. Even so, a car requires maintenance and upkeep and continual repairs, so it's important to factor in the total cost of the vehicle.
Know how much it truly costs, so you don't buy more than you can afford.
First, know what you can afford
Using BudgetPulse means you know what you spend today, and what you'll likely spend next month, and the next, and so on. Perhaps you find out that you are dining out several times a week and decide that cooking at home more often will give you the extra savings to apply to a car payment. Knowing what your average spending in each category tells you where you can cut back .
Knowing where you can cut back gives you a much clearer picture of whether you can afford a car payment. After you've carefully reviewed your budget, you will know how much you can realistically afford to pay each month for your car payment. Use that amount and the number of months you are comfortable paying the car payment to get a realistic number you can pay for a vehicle. So you buy a vehicle you can reasonably afford instead of buying what you think you can afford.
Next, calculate the real cost of ownership
We all know the total cost of ownership for a vehicle isn't just the loan, it's interest and insurance and taxes too. Not only that, you can expect to pay for maintenance on a regular basis. All vehicles need regular oil changes, wiper blades, new tires, air filters, and more. If you do the research ahead of time, you can find out what it should truly cost to own that vehicle on a month-to-month and year-to-year basis.
After all, you will need to keep that vehicle for many years in order to gain the benefits of ownership. While the vehicle will lose value each year, you can recoup some of its overall costs by providing conscientious maintenance and routine care so that your vehicle provides you with the necessary transportation to your job.
Then, buy realistically
Any new car's value can drop between 15 and 20% the minute it is driven off the lot. Many careful consumers find that buying a used vehicle - while taking more time to research - can prove a better financial decision. If you have the used vehicle inspected by a trusted mechanic and get the full report on the vehicle's history, buying a used vehicle can be often the best decision. Leasing a vehicle only makes sense when you have significant disposable income, or when someone else (perhaps your company) is paying for the vehicle.
Buying realistically involves the first two steps: know what you can afford and knowing the total cost of ownership. BudgetPulse can help with the first step and your own effort can help with the second. Buying realistically can help your financial picture over the long run and because you know the cost of ownership, you are in a better place to negotiate a reasonable price on the vehicle, whether new or used.