Funding your child's education.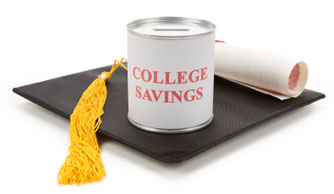 Funding your child's education can seem like a daunting task, and some question whether it is really your responsibility. After all, many of us took out loans to get through school, why not your kids? Well, if you believe it is your responsibility and you decide you want to help fund your child's education, there are certainly ways to accomplish it.
Helping fund your child's education is a gift, and perhaps a significant financial advantage
Decide how much to invest
No one says that you have to pay for your child's education, but many people want to and believe it will help their child's financial future. Now that you've decide to do it, let's use BudgetPulse's financial tools to decide how much you can afford to invest. It is important that you recognize you can't help your kids until you've helped yourself, so it is assumed that you are starting this effort only after you have extra money and your debts are paid. If you are struggling to make your own debt payments, there is no purpose in setting aside money for your child's future education.
Using the BudgetPulse financial tools, you now know how much is going out each month and how much is left over for investing. Take a hard look at the amount available for investing and decide how much of that you will set aside for your children. If you have multiple children, it's important to factor in their ages, and when they will likely need the money for education expenses. Consider putting a little more in the accounts designated for older children than those for younger children since those accounts for younger children should, in theory, have additional time to mature.
Set aside an amount you can afford each month
Now that you've paid off your debt and have started saving for the important things you want, it's time to look at how you can use your money to help keep your child out of long term debt. Using the lessons you've learned, you now know how much you can set aside an amount each month for each child.
It is important to remember, these monthly funds are a gift you give to secure your child's future. It's one that shows them how to save for the important things, and one that gives them a significant advantage over students who fund college solely on loans. It is by no means a requirement and when you can't afford it one month - for whatever reason - it's not something to beat yourself up about.
Put that money in a safe place
There are various saving and investing plans specific to saving for college, including 529 plans, educational IRAs, U.S. Savings Bonds, and more. Once you know how much you are able to set aside each month for each child, put that money into a savings plan you trust - one that will work for you.
The combination of tax-deferred growth and your child's lower tax bracket can provide a significant financial benefit to you, as well, when it comes time to start taking money out of the fund. Track the value of those student accounts in BudgetPulse, so you can see the overall growth and know what you will ultimately have to contribute to your child's education.